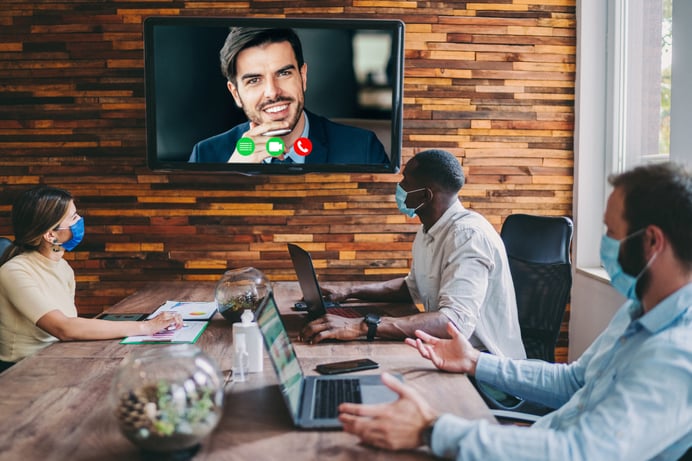 Hybrid Meetings
Following up on our first installment on technology for your hybrid workforce, this week we're tackling how you can use those investments by focusing on hybrid meetings. We were all there for the explosion of the Zoom craze in early 2020 and, more likely than not, we all inevitably experienced "Zoom fatigue" in the months that followed. An Otter.ai study found that, of the over 2,000 American and British employees surveyed, 42% had experienced "Zoom fatigue" since they began working from home, and a further 20% say that it's continuing to worsen. While the rise of videoconferencing has helped us all stay connected in our professional and personal lives, it is clear that the novelty has worn off and business leaders need to start thinking strategically about how and when to implement the technology moving forward.
Best practices on meetings for the hybrid workforce can be split into two separate, but related components: how and when to schedule meetings and how to conduct meetings. For planning better meetings, be intentional in every component of the meeting. While the knee-jerk reaction may have been to throw everyone on a two-hour video conference to hear from all departments, this type of meeting often has the opposite effect of connecting everyone. Instead, be meticulous in your planning, asking yourself important questions about each component of the meeting:
Agenda

What do we need to cover? How should I outline the clear goals?
What order makes the most sense?
What will the key takeaways and action items be from the meeting?

Attendance

Who is essential to the meeting?
Can we divide the agenda into sections and limit attendance for each section?
What capacity are attendees participating in the meeting (fully engaged vs. monitoring)? Are they aware of that ahead of time?

Platform

What would video add to this meeting?
Do we need a whiteboard or note-taking component?
Would a chat element be useful for quick surveys or polls?
Alongside these questions, you also need to consider how meetings will be run. It's important to reflect on how any conferencing or meeting solution will support both in-office and remote workers in a hybrid workforce. One way to rethink the hybrid meeting would be to evaluate the space—if all in-office workers will be in a meeting room together, how will you ensure that your remote workers don't quickly become second-class citizens to those in the office?
To promote equity in these meetings, you could do away with the conference room altogether and have all employees dial into a conference bridge from their respective desks. Another option would be to reorient the furniture in your meeting rooms to be inclusive of those videoconferencing in (imagine a meeting room where all the seats, instead of being situated around a table, faced a screen where the remote worker(s) would be displayed, making a more inclusive experience for all participants). Another possibility is to have a moderator for meetings, whose role is to ensure that in-office employees are not, consciously or unconsciously, excluding their remote colleagues. If this topic of equity in the hybrid workforce is of interest, be sure to check out our most recent podcast that tackles this subject in much more depth.
However you choose to implement meetings in your hybrid office, the important thing is to be cognizant of the dynamics at play in a meeting between in-office and remote employees. It is this topic of personnel management that conclude the series, so be sure to come back for our blog on the importance of management.