Episode 34:
The 2021 Industry Roundup Episode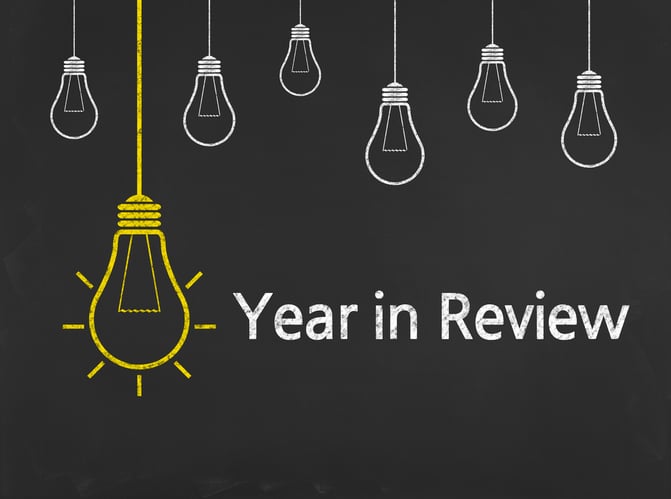 Clint Mohs
Hey, everyone. And thank you for joining us today for this episode of the Free UC with 2600Hz Podcast. I'm Clint Mohs. And I'm back in the booth with my co-host Alisa to bring you an exciting new episode.

Alisa Bartash
Hey, everyone!

Clint Mohs
With the holidays fast approaching, it's a good time to take a step back and review the year. While certainly not as tumultuous as 2020, 2021 still served up plenty of change for all of us. Today, we'll take a look at some of the big news items of the past year in the cloud comm space and remind you about some of the exciting things Team 2600Hz was up to as well.

Alisa Bartash
That's right, Clint, I can't believe that we're already at the end of 2021. And looking forward to 2022 already. But as you said, it really is a great time to reflect back on the past year. And, you know, it seems like the overarching theme was, and I know that a lot of people are gonna cringe when I say this, but the dreaded phase, "new normal." And yes, I'm using air quotes. And I know you can't see that. But at times, it really felt like the sudden shift to remote work in 2020 may be a flash in the pan, and that we'd return to typical work as quickly as we went to working from home. However, now that we're on the other side of the vaccine rollout, we're actually seeing that it simply hasn't been the case. And not to be too hyperbolic, but we're all living through a pretty dramatic cultural shift that is impacting how business is and will continue to be done. And I really feel like this recognition of permanence underpins a lot of what has been happening in the market over the past year. So with that in mind, I'm not sure there is anywhere else to start with this 2021 review, but with the big name of Microsoft Teams.

Clint Mohs
That's right, Alisa, and 2021 really kind of saw Microsoft Teams grow into its own, with the really big announcement in July of this year of Microsoft Teams having 250 million monthly active users, 80 million of those monthly active users using Teams Phone, so really just an exponential rise in the amount of users on the platform. And so back to what you said in in your intro notes Alisa, this idea about kind of settling in or hunkering down to whatever this new version of work is, really feels like it was informed by this desire to move to a more permanent enterprise-grade solution. So if there was a rapid dramatic shift to remote work, where enterprises might be plenty comfortable just hopping on Zoom, or another ad hoc/Band Aid type solution, in 2021 it was the recognition that these types of solutions just are no longer going to cut it if we are going to be in a long term hybrid work situation or a long term remote work situation. Some of these quick and easy solutions just aren't going to hold up as well as something like a more established name, like a Microsoft has. And then on top of Microsoft's big announcement of the number of monthly active users, they also more recently, I believe both of these announcements happened in November, so just last month, Microsoft is rolling out Teams Essentials, which is a Microsoft Teams specific license. So you don't need to have the full Office 365 suite, but you can just purchase a license for the UC platform and that's it. So adding name recognition, fairly low cost of entry. This is a really big play on Microsoft's part into the UC space. And the other major announcement was Microsoft Mesh, which if you've been following the news about virtual reality thing, advancements that have been happening over the past year of interest in Metaverse, Microsoft is making a play for that space as well and enterprise persona version of the metaverse right. So if you don't want to be on camera, you can have an avatar, if you aren't going to make it an office they have created these sort of like digital spaces that you can still meet, interact and move around with. So all in all, really a big year for Microsoft Teams and a lot of major announcements and definitely something that everybody needs to keep their eye on. Certainly for the next year, at least.

Alisa Bartash
That's true. I'm sure Microsoft will continue to make some big moves as they, you know, have done the past few years. I'm sure they'll continue to do that in 2022, which brings me to the idea that, you know, a lot of our listeners might be sitting here saying, okay, Microsoft is doing all of this stuff, they are looking to gain even more users, especially with the announcement of Teams Essentials. Now that they're entering the UCaaS space, it certainly can seem as though they're a threat to the industry. But one thing I'm going to point out is that it's important to keep in mind that Microsoft just isn't a telecom company, you know, that's not their specialty. And that's where there's a real opportunity for service providers to truly leverage their position as subject matter experts in the telecom field, you know, despite Microsoft's entrance, and you know, what we've seen in terms of success for Teams. So even as Teams continues taking some basic telephony business from the cloud comms markets, such as you know, SMBs, who use Office 365, will get voice plans for a handful of their users. And Teams is the default path for businesses of all sizes, because they already use Office 365. But Teams as an opportunity for service providers, is really, that service providers can be the voice specialists within Teams. So really, that means that there is a need to provide integrations with Microsoft Teams. So that teams users can have those features that basic voice in teams doesn't have, Microsoft doesn't have the telecom experience that service providers do. So that's one thing. Plus, it doesn't seem like they're looking towards contact center solutions, which is something that a lot of service providers can offer. So there are definitely some areas of opportunity here.

Clint Mohs
Yeah. And so because of this opportunity that Teams carves out for service providers in their customers that are looking for some more advanced telephony, or UC features, we partnered with the folks over at TeamMate Technology to create a direct route integration with Microsoft Teams. This integration is really exciting for all of us here at Team 2600Hz, because it pairs the convenience of teams, which we talked about earlier, with the network reliability of KAZOO. It also brings the more complex PBX functionality and callflows to a UI that lots of folks are familiar with and often already have installed on their desktop. We started beta testing this integration at the end of August, and the testing period went really great, we were able to fully launch the integration as of about a month ago. So if you haven't checked it out yet, be sure to take a look. And if you'd like to hear a little bit more about this partnership, we actually had the founder of TeamMate on the podcast this summer for a chat all about what they're working on, and what our partners can expect from the integration. I'll be sure to drop a link to that episode in the show notes. And as you mentioned to Alisa, one of the major gaps that Microsoft Teams has is no contact center solution, right. So it's all about UC, it's all focused on the internal communication. And that's a nice sort of segue into the next big theme that we saw, which was the growing importance of customer experience, or CX.

Alisa Bartash
Exactly. And, you know, there's a real cultural transformation happening, where businesses are coming up with new ways to handle customer engagement, but also how they treat and manage their own employees. So they're looking at it from both sides of that coin. And there's really a growing importance of businesses having a solution that is able to handle both internal and external communications. And I think we probably talked about this in one of our previous podcasts, if not, I know we wrote a blog about it. But we attended Cavell's Cloud Comms Summit back in September and some of the data that they shared around customer engagement, integrating UC and call center was number one out of the five services that service providers are looking to add to their solutions. So this idea of customer experience, both with your internal employees, and also externally, so your either end users or your customers is really becoming more and more important, and is going to be a huge focus, not only as we close out this year, but also as we look to 2022 as well.

Clint Mohs
Yeah, exactly. It's this kind of integration of UC and call center that really represents kind of a next phase of products in the cloud comm space and our engineers have been hard at work following the launch of KAZOO 5.x on providing just this type of integration moving into the next iteration of our desktop communications app, all of the UC features that you're familiar with from our current desktop app will be present alongside our call center product. So it would be a one UI for both internal and external communications. On the topic of KAZOO 5.X, if you're interested in hearing more about it, be sure to check out my interview with our CTO all about the major changes that come along with the update. And just like the TeamMate episode, I will be sure to leave a link to that show in the notes as well.

Alisa Bartash
So another big topic that is always coming up in conversations. And there's just been so much of it the sheer mergers and acquisitions that have taken place within the industry. It'll be just this month and we're only a couple days into the month already heard about 8x8 acquiring Fuze. In November, there were some big announcements about Ericsson acquiring Vonage, BCMOne acquiring CoreDial. You know, there were a bunch over the summer as well. The Zoom acquisition of Five9 which fell apart didn't actually happen. But that was a huge announcement when it seems like it was going to happen. Salesforce acquired Slack in July, Amazon acquired Wickr in June, Cisco made a couple of moves early in the summer as well acquiring Socio and Involvio, Microsoft acquired Nuance in April. And earlier this year, RingCentral acquired a cloud encryption company, and Sinch acquired and Inteliquent. I'm sure that all of this M&A leaves questions in the minds of some of the service providers especially, you know, service providers, channel partners, resellers who were, you know, utilizing any of the solutions that were acquired. But, you know, as the cloud comms market continues to consolidate due to these mergers and acquisitions, product differentiation continues to grow in importance. With all of this M&A, we have seen a lot of consolidation in terms of the solutions that are out there in the market. And they're becoming increasingly generic because of all the M&A. While many have focused on UCaaS, over the past few years, these solutions are increasingly offering the same features and functionality which results in little to no opportunity to differentiate your product from that of your competitors, aside from maybe just looking at price, but that doesn't really get anyone anywhere in terms of growing your revenue, and you know, being able to grow your customer base. So one thing and this is another pretty big topic from this year, and I think that we're gonna see it talked about a lot more in 2022 and beyond is CPaaS, which is one way that service providers can stand out in the market by giving their customers a unique and customized solution. It's really what is enabling that product differentiation. And it offers service providers the opportunity to integrate with things like CRMs, POSs, and any other specific tools that their customers and end users use on a day-to-day basis. And I know that I mentioned the Cavell research that we reviewed at their event back in September, their research indicated that utilizing CPaaS to offer product enhancements around video collaboration, that CRM integration UC and C, as well as security will be key to service provider success in 2022. So that's definitely something to keep in mind something to take a look at if it hasn't been on your radar, because that's going to be a huge trend in 2022 and might just be the key to success for your business. And also not to mention, I know that we talked about this earlier when we were talking about Microsoft Teams, but CPaaS is another big differentiator between Teams and what service providers can offer. Because teams doesn't have any of those customization capabilities, APIs etc. And by utilizing CPaaS that's really the big way that you can set yourself up for our success in 2022 and even beyond.

Clint Mohs
Couldn't agree more Alisa, the CPaaS space is really something that is super exciting and has so much potential for service providers to really stand out and offer whatever kinds of solutions for the niche markets that they serve. So very, very exciting stuff there. And probably the last topic we have enough time for today is what's going on in the compliance arena with STIR/SHAKEN, you know, a set of regulations that have been in the front of mind for certainly all US-based service providers and telecom professionals, if not those also overseas who are either routing or receiving calls to or from the United States. As I'm sure you're all aware by now, STIR/SHAKEN is a set of protocols to curb caller ID spoofing and Robocalling. 2021 was really the year of these procedures being initially rolled out and fine tuned. So we had the June 30 deadline to register with the FCC's robocall mitigation database. And then the September 2018, deadline to begin blocking calls directly from voice service providers that did not register with the FCC'S database. Well, there's certainly a ton more to these regulations than we have time for, and a lot more technical information that I'm not quite qualified to talk through. This is a really important moment in the void space as it is the technology is being leveraged by Robocallers in the past and, much like e 911, this is a major government regulation that all VoIP service providers will need to be compliant with. So STIR/SHAKEN is another thing to have in mind as we move into 2022 as these regulations will certainly continue to develop over the coming year. Well, that about takes care of the year review. Before we sign off Alisa and I want to remind everybody to subscribe wherever you're listening. We have a big announcement coming in January that you won't want to miss. So be the first to know by subscribing today. And thanks so much for tuning in. Be sure to like and share this episode wherever you're listening. And while you're already there, write us a rewview. It only takes a second in is a huge help to all of us here at Team 2600Hz. Until next time, thanks everyone.

Alisa Bartash
Bye