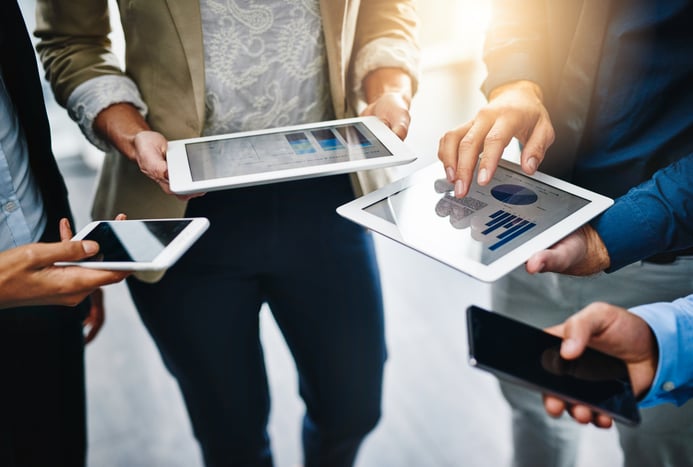 Industry Insights from the Cloud Comms Summit 2021.

Every September, 2600Hz sponsors and attends the Cloud Comms Summit, a leading industry event hosted by Cavell in partnership with the Cloud Communications Alliance. At this year's event, we gained insight into how the industry has changed throughout 2021 and had a unique opportunity to get an inside look at what's trending for 2022. Spoiler alert - CPaaS and Microsoft Teams were at the top of the list! In case you missed the event, here's an overview of 2600Hz's key takeaways from the Cloud Comms Summit what's trending for 2022.
CPaaS In Demand
The biggest takeaway from the event is that CPaaS is in demand and will continue to grow in importance in 2022—and for good reason. As the cloud comms market continues to consolidate due to mergers and acquisitions, product differentiation is growing in importance. While many have focused on UCaaS over the past few years, these solutions increasingly offer the same features and functionality, resulting in little to no opportunity for differentiating your product from that of your competitors'. Enter CPaaS, which enables service providers to stand out in the market by giving their customers a unique communication solution that integrates with the CRMs, POSs, and other tools they use daily. As Cavell's research indicated, utilizing CPaaS to offer product enhancements around video, collaboration, CRM integration, UC&C, and security will be key to service providers' success in 2022.
CPaaS + CRMs = Future of Comms
The CRM market is the largest software market in the world. With so many industry-specific CRMs out there, it's no surprise that the CRM market is expected to grow to $43.5 billion globally in 2024 according to Statista. This projection signals a huge opportunity for cloud comms providers and underscores one of the many reasons why CPaaS is growing in popularity. Cloud comms providers can utilize CPaaS to integrate CRMs into their communications solutions, enabling them to differentiate their offering in the market and also take advantage of the growing CRM market. By integrating the CRMs their customers use daily, service providers are able to offer a unique solution that not only differentiates their solutions from their competitors, they are also improving the customer experience.

Integrating CX
When it comes to CX, there is a cultural transformation happening. Businesses are looking for new ways to integrate customer engagement with how they manage their own employees. This desire to streamline is leading to the emerging importance of offering a solution that can handle both internal communications, including collaboration tools, and external communications, specifically call or contact centers. This effort to break down the UC and call/contact center silos is on the top of many service providers' minds, with Cavell's research pointing to this integration as the number one service that service providers are looking to add in 2022.
Microsoft Teams - An Opportunity for Service Providers

It wouldn't be a discussion about what's trending in the cloud comms market without a mention of Microsoft Teams! The big question addressed at the Cloud Comms Summit was if MS Teams is a friend or a foe. The general consensus is...both! Teams will continue taking basic telephony business from the cloud comms market, such as SMBs who use Office 365 and may get voice plans for a handful of users. On the flip side, Teams is an opportunity for service providers to be the voice specialists within Teams since Microsoft doesn't have the telecom experience of service providers, so there is an opportunity for service providers to provide the integrations and features that basic voice in Teams doesn't have.
As we look to 2022, there are two key themes to keep in mind: differentiating your solution is going to be the key to success and CPaaS is the underlying technology you need to accomplish that. If you're interested in continuing the conversation about CPaaS, CX, or Microsoft Teams, let us know!