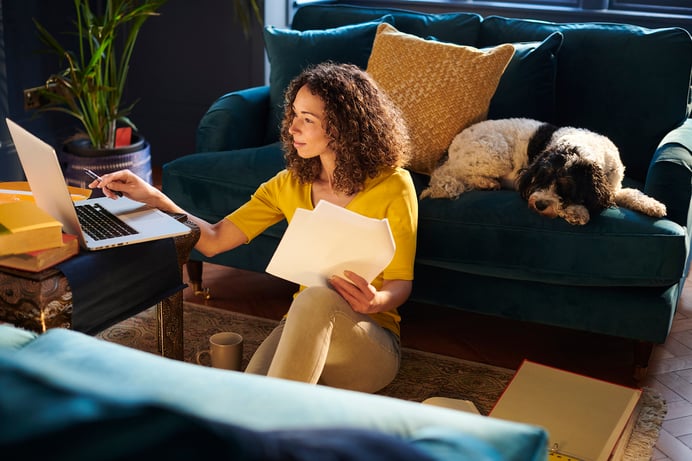 As we settle into another year that looks to be defined by flexible work arrangements, there has been an uptick in conversations about asynchronous collaboration. While it'd be fair to associate asynchronous work with the hybrid office as they're often discussed in the same breath, it's actually quite an established idea that most have experienced in any office job. Put simply, asynchronous collaboration is contributing to a project on your own time. Allowing teammates to work on their own schedule rather than according to their meeting calendar unlocks loads of benefits—from increased productivity and improved work to a more inclusive work environment and promoting employee well-being.
Although not a problem of the pandemic, the culture of meetings has certainly been exacerbated over the past two years with most knowledge workers being inundated with a glut of videoconferences. Meetings are a firmly established element of corporate culture, but it's important to outline the stakes of holding meetings as the de facto solution for inter-office collaboration.
According to a study conducted at the University of North Carolina, of the 182 senior managers surveyed across a range of industries:
65% reported that meetings keep them from completing their own work
71% reported that meetings are unproductive and inefficient
64% noted that time for deep thinking is lost because of meetings.
Although these numbers seem incredibly high, don't they also ring true? Haven't we all said "couldn't this meeting have been an email"? While meetings may seem to be just a common frustration we all have to deal with, these statistics point to the actual cost meetings pose to businesses. In research compiled by otter.ai, they estimated that professionals lose 31 hours of work every month, which equates to 4 working days, due to ineffective meetings. Piled on top of that problem, the Great Resignation is forcing businesses to make the absolute most out of the resources they do have available.
With 2022 poised to be characterized by constant shifting between in-office, hybrid, and remote working and the realities of needing to do more with less, let's take a look at how to best implement asynchronous collaboration and where UCaaS tools can support that initiative.
Not unlike synchronous, asynchronous projects need to start from a place of clear and effective communication. Here are 3 best practices to get you started:
Align the team on the current status and end goal(s)
Clearly delineate each person's roles and responsibilities
Consistently and fully document progress in order to ensure proper context and clear communication
With these three best practices in place, team members will be able to take complete ownership of their portion of the project, focus deeply on their work, document everything, smoothly hand off upon completion, and move onto the next task.
While UC tools certainly contribute to "always on" culture (think: after-hours slack pings, video fatigue, etc.), these tools can also be leveraged for business success and to combat these elements of burnout. A few use cases that exemplify how existing UC tools can empower your team focus around facilitating the clear communication and documentation that is the cornerstone of effective asynchronous collaboration
Call recording can be utilized to document and disseminate updates between key stakeholders, so that other team members don't lose vital context for the project but don't need to sit on a call that doesn't directly pertain to their day's work
Voicemail-to-email can be employed for handoffs, wherein one team member documents their progress on the project for the next team member and that update waits in their inbox until they can devote the time and attention to tackle their portion
Call transcriptions can automatically generate meeting minutes for non-stakeholders to review the context of a meeting when best suits their calendar.
While by no means exhaustive, this brief overview shows how easily a business can employ the tools already available to them to collaborate asynchronously.
The key takeaway here is that asynchronous collaboration is not (and should not) be a goal in and of itself for your organization. Rather an effective hybrid work environment is one that can flow seamlessly between synchronous and asynchronous collaboration. The goal is to find the balance between the two models of collaboration that will optimize efficiency, employee wellbeing, and inclusivity.