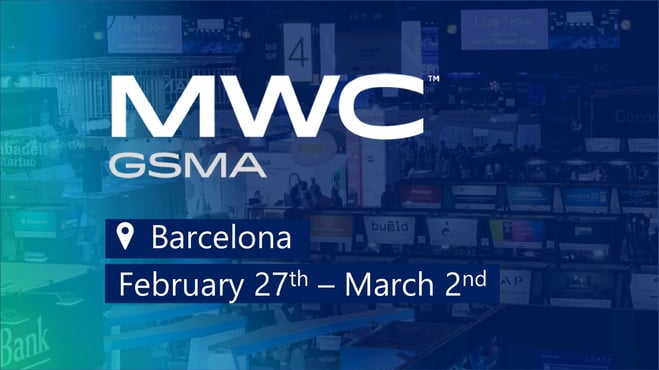 Recently on a podcast with influencer Evan Kirstel, our CO-CEO Patrick Sullivan said,
"Service Providers tell us that we are the best kept secret in telecom." As a hidden gem among our large US-based customers, KAZOO is an unrivaled platform in cloud communications. With the world's largest and most influential connectivity event,
MWC Barcelona
this week, we have the chance to extend our reach into new markets, and share our services with the rest of the world.
The largest carriers will be attending MWC Barcelona.
We are excited to be reconnecting with our US-based carriers and introducing
KAZOO
, our cloud communications platform, to their European colleagues. KAZOO provides a great deal of flexibility to Service Providers, allowing Service Providers to offer a top-notch communication experience. Our hosting options, including hosted platform, private cloud, private cloud plus, and global infrastructure, offer customers the freedom to decide how and where their (and their customers') data is stored. KAZOO can be tailored to fit any Service Provider, whether they already have their own infrastructure set up (deploying KAZOO in their data centers) or are just starting out (deploying KAZOO on a shared cluster in our data centers). As the current GDPR personal data rules are now in place, Service Providers can confidently sell in Europe without fear of non-compliance. With over 80,000 attendees, 2,000 exhibitors, and 200 countries in attendance, we look forward to showing how KAZOO can help Service Providers everywhere.
Big Service Providers are moving away from

BroadSoft

and to KAZOO.
The power of 2600Hz's KAZOO platform is becoming increasingly recognized by larger enterprises. With future development on the BroadWorks platform halted after the BroadSoft acquisition and a lack of clear migration or support plan for non-Cisco solutions, Service Providers are turning to KAZOO. Our platform is constantly being improved, and our support team is highly reliable. In addition, instead of a subscription based model that can be costly and disrupt Service Provider's operating budget, our model allows for a pay-as-you-go option. We also provide Service Providers with white-labeling, CPaaS features, and plug-and-play capabilities. All of this is made possible by our single-code base platform, which can be customized to fit any communication needs.
We offer a unique, best-in-class solution that meets and exceeds the needs of both large enterprises and small businesses.
KAZOO is the perfect solution for Service Providers of all sizes. Our user interface,
comm.land
, is designed with the end user in mind, our team works tirelessly to ensure our truly geo-redundant architecture meets and exceeds your needs, and our dedicated AI team is already implementing generative AI technology to develop enhanced features and functionality for the company's existing products and services
.
With this bleeding-edge technology, even small businesses can scale their businesses at their own pace and be assured of success today and in the future.
Attending MWC Barcelona will be key in helping Service Providers know and understand the gem that 2600Hz has to offer. Our one-of-a kind platform delivers a seamless and exceptional customer experience that builds brand loyalty and gives your company a competitive advantage. Come join us at MWC Barcelona to learn more about how our platform can help you!