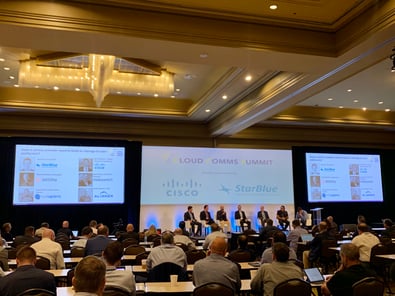 Our team is always out and about at different industry event and we recently attended the Cloud Comms Summit in Leesburg, VA hosted by the Cloud Communications Alliance and Cavell Group. There was a lot of talk at the Cloud Comms Summit about the future of new platforms entering the market, so we wanted to share some of the insights we think you will find extremely valuable and that are pertinent to your business. Analyst Phil Edholm has said that the market is already over-saturated with cloud comms platforms, and that creating a new platform isn't the key to being competitive — it's using the platforms that already exist in the market (such as those by 2600Hz, CoreDial, Netsapiens, etc…) to create unique vertical solutions that serve niches that will be what wins new business and ultimately drives success.
To put it in numbers, only 25% of the workforce is currently being targeted, and that focus is on the "Knowledge" workers within an organization. However, the other 75% are comprised of Information (task) and Service workers and they are currently being left out of the mix, which means there's a HUGE opportunity in that segment. To access that part of the market, a business needs to rethink the way they currently provide their offering. Bundling on average will provide significantly higher revenue than just offering a simple VoIP service. Utilizing APIs and integrations to customize your platform (note that we didn't say product!) to target a specific industry such as Hotels, Construction, Retail, Restaurants, etc. will be the game changer for those businesses. To take it one step further, after selecting that niche, focusing on research, marketing, and support for that specific industry will help you win those customers' trust and create a "stickiness" that can't be outbid by cost — give them an exceptional customer experience, and you'll have long term, happy customers.
The new trends in the workforce that were discussed at the Cloud Comms Summit are consistent with what we've been hearing about all year now. Customer experience and ease of use are the largest factors when it comes to customer retention, and the need to support remote working and hot-desking will continue to grow in the next 5 years. Thinking about it from that angle and setting up your platform preemptively to target a specific vertical will help enable your business to be at the forefront of this new market and will set your business way ahead of the curve. You'll essentially be entering an untapped market with a solution that your target vertical doesn't just need, but truly wants.
Make sure you stay up-to-date on the latest happenings and need-to-know information from across telecom by subscribing to our blog!