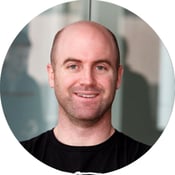 Here at 2600Hz, we value transparency and communication especially when it comes to important topics that are critical to our Partners and their businesses. As a member of the 2600Hz team, I'm always curious to know what's going on, what people here are thinking about, and how they feel about consequential topics in telecom. So, I recently sat down with Patrick Sullivan, our COO, to get inside his head. I asked strategic questions to really dig deep and get insight into our leadership's take on one of my favorite topics - redundancy. Enjoy this Q&A!

1: What does redundancy mean to 2600Hz?
Our vision was that there should never be a single point of failure because we believe that servers will fail and data centers will be unresponsive. So our mantra has always been around fault tolerance versus just pain tolerance. We believe in graceful failover. Our vision is that when a server starts to "die" the system automatically redirects the call stream to the next closest available media server. Our original mantra for the platform was: "The World's First, Self-Scaling, Self-Healing, Distributed Mesh Communication Platform". As we have been told, we are industry leaders on Platform Scale / Up-Time, yet we do poorly on catchy slogans.
2: What does redundancy mean to you as COO?

To me, it means 24 hour NOC (network operations center) so we know that someone is always looking at both our and our clients' services. In addition to having monitoring tools like Cluster Manager, we have our own engineers doing it rather than an outsourced company. We have a pager rotation with all of our lead engineers so if something major happens they can jump in. 24/7/365 there is always someone watching all of the servers.
3: What's the biggest myth about redundancy that you'd like to debunk?
The whole idea of having a hot backup server is good enough - specifically that your platform will be around even if one server fails. The problem is that redundancy is not just on your servers, it should be in your company's DNA. We recently had a client come over to us from a major competitor who claimed "they had backup servers so there is no reason to worry". That competitor didn't think about having multiple internet providers into their only data center. When their internet went down, their primary and backup servers were unreachable. When it finally came back up, they already were down for 6 hours. Clients demand 24 hours a day, 7 days a week uptime. There is no room for downtime at any point.
4: If you were king of the telecom world for a day, what would you do or change?
I would get rid of faxing, change the way numbers are ported, and remove all the "last mile" taxes. It's antiquated technology, procedures, and laws. 2600Hz, of course, still works around these because we believe that you must bridge the traditional telecom market with the latest and greatest. On a side note, this does give us a competitive advantage - while most technologist only look to the future, our vision has always been to bring the future and the past together.

I would also redesign 911/e911 services. From a technology point of view, there is a ton we can do to make it more efficient and cost effective. Sadly, the bureaucratic red tape gets in the way.
5: What's a fun fact that most people don't know about you?
I can actually do the worm at weddings! (But there's no documentation to prove it...)
We hope you enjoyed this Q&A with Patrick! Make sure you stay up-to-date with our latest blog posts by subscribing to email updates.