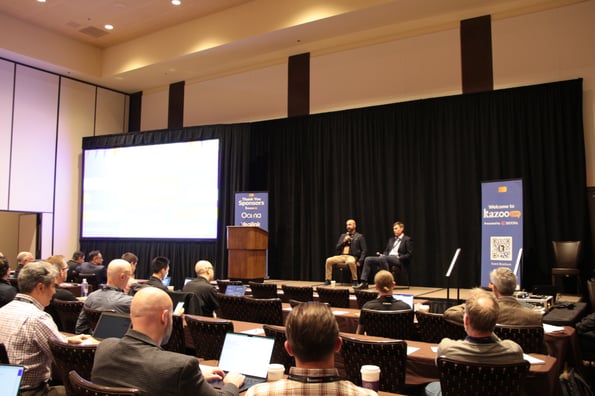 Kazoocon kicked off in the vibrant city of Las Vegas. Amidst the glittering city lights, we immersed ourselves in the wealth of knowledge, innovation, and valuable connections that Kazoocon offers. This event brought together Team 2600Hz, esteemed partners, and influential industry leaders, making it an unforgettable experience.
Announcements: Unified Strength
Opening the event with some big news, Patrick Sullivan, co-CEO of
2600Hz
, and Eric Stang, CEO of
Ooma
, announced that 2600Hz had been acquired by Ooma, a longstanding partner with a 10+ year history of using and contributing to the Kazoo platform. This acquisition marks a significant milestone in our commitment to delivering top-tier communication solutions, aiming to create more powerful, scalable, and open communications solutions for our partners.
Stang emphasized that Ooma is firmly committed to the Kazoo ecosystem, including supporting open-source Kazoo Core and the white-label/wholesale market. Sullivan and Stang reported that we're actively working on innovative solutions to enhance the business communication experience. The pooling of engineering resources will result in improved reliability, performance, and stability. Furthermore, Ooma's resources will boost our customer support capabilities, ensuring you receive exceptional service.
Spotlights: CPaaS Growth & Opportunities
CPaaS Acceleration Alliance
partners Robert Galop and Kevin Nethercott both gave insightful presentations about the exciting future for CPaaS. They emphasized the substantial growth and potential within the CPaaS market, which is projected to surge from 15 billion to an impressive 100 billion by 2030. These talks shed light on the opportunities for a diverse range of players in the industry, urging a collaborative approach to propel CPaaS forward.
While CPaaS is often associated with large corporations boasting extensive teams of developers and engineers, there's a wealth of untapped potential for small and medium-sized businesses (SMBs), presenting innovative use cases that can bring substantial value to the market. With projections indicating that CPaaS will become a critical IT skill set for 90% of organizations by 2026, and a potential market size of 62 billion by 2030, the CPaaS Acceleration Alliance was created to overcome the various obstacles currently holding customers back.
The key takeaway from these presentations is that the opportunity to harness CPaaS is ripe, the solutions are ready for channel adoption, and the relationships are already in place. It's time for a shift from a reactive to a proactive mindset, encouraging businesses to reimagine where and how communication services are delivered, extending beyond today's UCaaS and CCaaS solutions. To thrive in this evolving landscape, businesses should be ready to swim with the sharks, demonstrating nimbleness and innovation, while seizing the numerous opportunities that CPaaS has to offer.
At Kazoocon, several exciting new products and features were unveiled for the platform. The highlights include an AI meeting recap, voice bot, and chat bot capabilities, adding a layer of intelligence to your offerings. Along with this, the Call Center Team has introduced enhanced call recording compliance features, including pause functionality, call transcriptions, and sentiment analysis.
The Marketplace is open for business, listing some great partner apps for customers to extend the services of Kazoo. Check it out here:
marketplace.2600hz.com
. In addition, the automated app delivery system that enables Global Infrastructure and Private Cloud installations to purchase both front end and back end apps directly from the Marketplace is now available to Early Access testers.
The CPaaS team also has posted a preview of their documentation portal that aggregates user, API, and System Admin docs all in one view, here:
preview.docs.2600hz.com
. Finally, the team introduced teasers to new projects in their pipeline, including a visual, no-code/low-code API Explorer app and additional Pivot action support to enable new customers to test out Kazoo and expand their customer base.
Comm.land
2.6 and Kazoo 5.3 bring refined workspace and webphone functionality, conference workspace improvements, user preferences enhancements, and a dedicated faxes workspace. In terms of planned tools, be on the lookout for SmartPBX Command Line, Intelligent IVRs, Call Center Coaching, and more, aiming to provide a comprehensive communication solution.
As we look forward, the
Kazoo
community is not just keeping pace with the ever-evolving tech landscape, but leading the way. Our journey with Ooma signals an exciting future, as we stand firm in our belief that creating tailored, integrated solutions from scratch is the path to sustainable excellence. It's this dedication that propels us forward, enabling us to consistently deliver cutting-edge solutions that meet the dynamic needs of our partners. Until the next Kazoocon, let's continue to gain knowledge, foster innovation, and forge those valuable connections that drive progress.