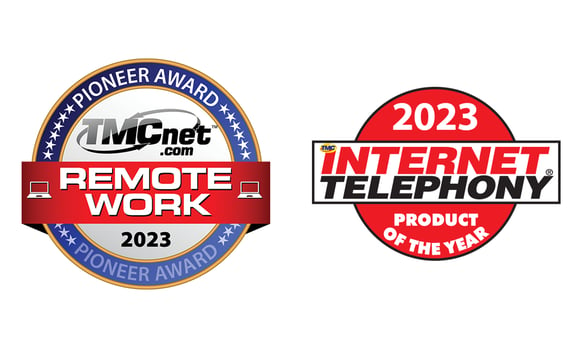 Our
desktop app
, winner of the Remote Work Pioneer Award, empowers productive collaboration anywhere, anytime. End users can view their communication tools all in one place. The user interface includes video conferencing, webphone, fax, and chat services. 2600Hz's desktop app is "being honored for their achievement in bringing innovation and excellence to a marketplace thrust into the limelight by the global pandemic, but which will remain part of the business environment into the future," said Rich Tehrani, CEO, TMC.
In August 2020, 2600Hz made the decision to formally close their San Francisco HQ office. However, the company had been a mostly
remote team
for some time before hybrid working became a necessity. Our decision to go fully remote has paid off, leading to the company doubling in employee size. Working remotely has allowed us to hire the best talent without restrictions due to physical location, and our desktop app provides the best collaboration tools available for a distributed workforce.
Right on the heels of winning the Remote Work Pioneer Award, our platform
KAZOO
won INTERNET TELEPHONY Product of the Year Award two years running! "In the opinion of our judges and editorial team, KAZOO has proven to be among the best communications and technology solutions available on the market. I look forward to continued leadership from 2600Hz," said Rich Tehrani, CEO, TMC.
Our platform KAZOO lets our partners do business their way, empowering them to customize every part of their UC solution including pricing, branding, customer offerings, and more. With thoughtfully engineered tools built by leaders in the telecom industry, KAZOO offers feature-rich UCaaS, CPaaS, CCaaS, mobile, and remote collaboration solutions. KAZOO is a true end-to-end white label solution that offers a full enterprise-PBX, next-gen call center, intuitive collaboration tools, automatic sign up and provisioning, international expansion, and a wide range of other services.
"Our team has worked diligently to ensure the success of KAZOO, and this award is a reflection of their dedication, hard work, and innovation. I am very proud of them," said 2600Hz Co-CEO and Co-Founder
Patrick Sullivan
.
Congratulations to Team 2600Hz for winning Remote Work Pioneer Award and Internet Telephony Product of the Year Award!
TMCNet's Internet Telephony Magazine has been the IP Communications Authority since 1998™, providing unbiased views of the complicated converged communications space.