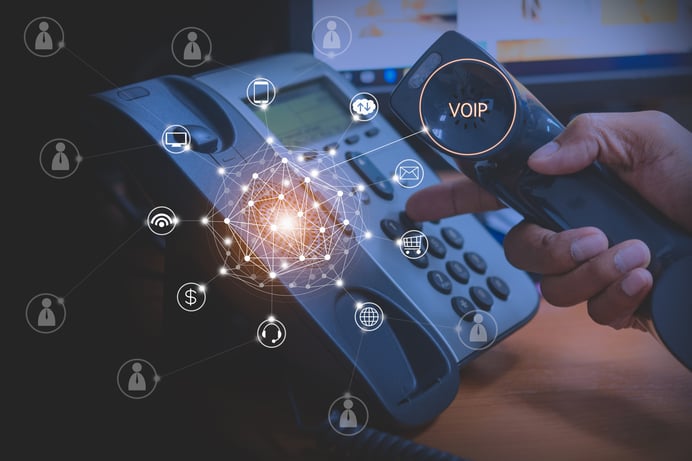 There's always an opportunity for a business to expand its offerings. Voice over IP (VoIP) telephony is unique in that it can be added to nearly any technology reseller's repertoire. The training required to understand the fundamentals of VoIP is relatively low compared to other technologies, and wholesale vendors are usually there to support their reseller network with any troubleshooting, management, or features issues.
How do you know if VoIP could be a value-add for your own organization?
Business Models that are Primed to Add Hosted VoIP
Companies with a foundation in technology are likely going to have an edge over the "average Joe," since maintaining the network and software that underlies all VoIP products is best done by IT professionals with background expertise. Businesses that have low barriers to entry and can neatly fold VoIP into their offerings are:
Legacy telephony and PBX dealers
Legacy telephony and PBX dealers already know about the telecom landscape, but they're operating on older systems and technologies that are quickly becoming obsolete. The advantages dealers gain by offering VoIP lie largely in the elimination of overhead costs associated with the hardware they're accustomed to recommending, and labor associated with installation and maintenance. With those costs out of the way, dealers are better positioned to demonstrate their expertise, move more products, and complement their VoIP platform with managed service offerings.
Internet service providers (ISPs)
ISPs have led the way to building modern IP-based infrastructure and are at an advantage since they already have a network infrastructure that can easily be adapted to voice. They can also offer specific service level agreements (SLAs) for uptime, which can be marketed as an added benefit over competitors. Plus, larger ISPs are already well-known and have existing customers to sell to. By bundling VoIP with their other services, ISPs can craft packages that best meet customer needs.
Business communications software vendors (e.g. instant messaging platforms, collaboration suites, or video hosting)
Similar to the legacy telephony folks, application development teams who work on setting businesses up with digital communications already have skin in the game. Unified communications is often thought of as a combination of instant messaging, voice, video conferencing, and project/asset collaboration. If a company already has one of those solutions, adding VoIP to the mix would just bring them one step closer to being able to offer their customers a "full communications solution."
Cloud providers
Like ISPs, cloud providers tend to have the hardware and support staff to manage their customers' environments themselves. With the newfound stability in recent technologies, some wholesale VoIP providers have also started incorporating cloud directly into their platform solutions, leveraging features like cloud storage for end users who need to preserve voicemail or call recordings. A cloud provider would essentially be doubling down their path to profit by adding VoIP to the mix.
Why Hosted VoIP Will Boost Your Profits
Regardless of whether your business model is well positioned to adopt VoIP as an offering, reselling a competent VoIP solution is going to make you money for several reasons:
Businesses will always need clear, reliable communication
The UCaaS market is expected to reach $28B in revenue by 2021
VoIP is a good complement (or substitute) to mobile
Resellers have the flexibility to customize their VoIP offering to best meet customer needs
Management & support of the platform is easy and can be offered as a value-add service
VoIP is both cost-effective and scalable because it doesn't require high-cost hardware
VoIP platforms that accommodate white labeling can be sold seamlessly alongside other offerings
Stickiness: customers learn to depend on YOUR unique hosted communication services
In addition to the reasons listed here and the innate benefits of VoIP calling, resellers who offer an advanced platform can also add features onto the initial sale of a core platform. Since it's highly customizable, VoIP may include a number of apps that improve usability and grant users access to new productivity features. Resellers can offer each of these apps as at-cost add-ons, and further enhance their sales team's ability to overcome objections by customizing the fees and billing structures account-by-account, bundling features and discounting as a save tool whenever necessary.
Granted, all of this is somewhat too good to be true, since not every wholesale VoIP provider has a quality platform or are easy to coordinate with to resolve customer issues or objections. It's important for future resellers to do some of their own shopping first. A combination of bleeding edge technology, outstanding support, a stable and reliable network, and a dedication to industry growth are important qualities to look for in a VoIP partner. Want to see an example of what that looks like? Check out 2600Hz's Reseller Suite and the Kazoo calling platform for a taste of the possibilities that VoIP is opening for resellers. Click here for more details.