The Accounts Manager App is a dynamic web portal providing multi-tenant functionality for worry-free scaling. Manage all of your accounts, and provide granular control to ensure customers have an enjoyable experience.
Set limits for trunks, create call restrictions and manage credit balances – all within the App.
The Accounts Manager App has consolidated customer relationship management within a single User Interface. Accounts can be set up remotely, enabling you to sell across the continental United States. You no longer need to worry about logging into separate systems or figure out what client is on which platform.
What 'Accounts Manager' Provides
Unified and Intuitive Interface
Add and edit new accounts and sub-accounts, monitor customers, select a carrier strategy, maintain service plans and restrictions - in one interface.

Simplifying Account Set-Up
Set up accounts for all of your customers. Create business account names, add the admin contact or manage the account yourself.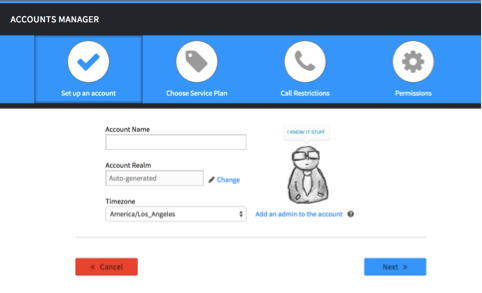 Set Limits and Create Call Restrictions
Create and set limits for your customers that include inbound, outbound, and two-way trunks. Set up call restrictions based on tolls, location, Emergency Dispatcher, and manage your customer's credit balance.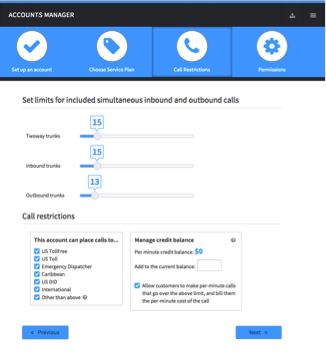 Manage Permissions
Manage what your clients can and can't view. This includes user and account settings, billing options, inbound and outbound trunking, and UI errors.