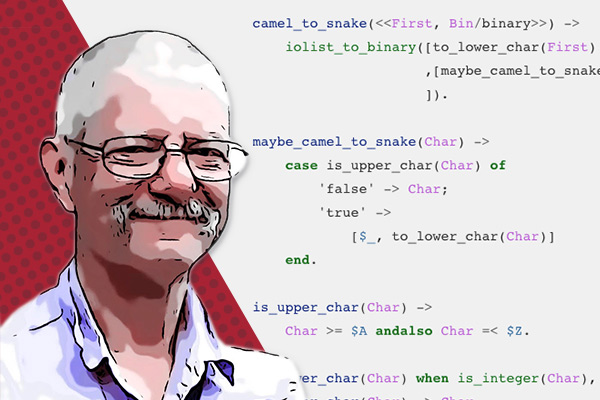 "You wanted a banana but what you got was a gorilla holding the banana and the entire jungle."
Joe Armstrong, 1950 - 2019
On April, 20th 2019 the world of telecom lost a legacy. Joe Armstrong, most recognized for being the father of Erlang, left not only a legacy of a unique and powerful programming language but also the remembrance of his friendly and fearless approach to life and the world of computing. He, along with Mike Williams and Robert Virding, created the language back in 1986 while working for Ericsson. Erlang was born out of a project with the goal of making it easier to program telecom systems and changed the open source world forever in 1998.
Joe was best known for his kind and animated personality amongst friends, colleagues, and admirers. Those who knew him best adored his passion for identifying new ways to create and recreate distributed systems and the mechanisms that made them function. He was a problem solver and looked to always push the realms of the reality of software and computer science.
The news of Joe's passing was a major shock to the 2600Hz team. Not only do we adore and embrace his passion for the Erlang language, but he unknowingly had a major impact on the lives of many of our engineers. KAZOO, our flagship product, encompasses a foundation of Erlang, and would not be the powerful platform it is today, without it. We have several Erlang and Joe Armstrong fanatics on our team who love the language and are grateful for the knowledge Joe has bestowed. Those who had the pleasure of meeting Joe describe him as warm, exuberant, and humorous. Our very own James Aimonetti wrote a lovely tribute to Joe, acknowledging his interactions with Joe resulting in being a "major catalyst for his career transformation and a guide for finding his home in the Erlang community and at 2600Hz."
Joe's legacy will always live on, and there is a multitude of videos, quotes, personal experiences, and images that will carry on his memory for years to come. As a tribute, we wanted to share a few of our favorite videos that showcase his sense of humor and passion for Erlang, computing, and redefining programming and problem-solving. Enjoy:
Without Joe, none of us at 2600Hz would be where we are today. So thank you, Joe, for all that you did and the impact you had on each and every one of us.